Passion For Aviation Essays
I took my first flying lesson a month before I took my first driving lesson.
For many pilots, the first flying lesson, "The Discovery Flight," is the day that they fall in love with aviation. I've always prided myself in being a little different, and flying was no exception. For me, the day I fell in love with flying was years before I ever took my first lesson.
Falling in Love:
"One is very crazy when in love."
-Sigmund Freud
When I was 10 years old, my mom jokingly asked for flying lessons for my parent's wedding anniversary. My dad listened to my mom's request and bought her gift certificates for two flying lessons at the local airport. When the certificates were a month from expiring – 11 months after purchase – my mom admitted that she was afraid of heights and somewhat claustrophobic. My dad couldn't see the certificates go to waste, so he went and redeemed the first of the two lessons.
He came home that night with a huge smile on his face, a nifty headset and the complete Jeppesen Private Pilot kit. He was hooked.
Watching my dad fall in love with aviation was absolutely remarkable. He read the Jeppesen Private Pilot book cover to cover and spent every evening for months doing practice multiple-choice questions for his written exam. Never had I seen my dad with so much passion and drive, nor had I ever seen him sit still for that long! This passion he radiated soon wore off on me. I wanted to know what this whole flying thing was about.
The Gift of Learning:
"You don't learn to walk by following rules. You learn by doing, and by falling over."
-Richard Branson
At the ripe age of 11, I picked up the Jeppesen book off my dad's desk and I started reading it. I learned about Orville and Wilbur, weather basics, and the basic flight maneuvers private pilots were responsible for. It was all so interesting!
I went to AOPA safety seminars with my dad and learned about the dangers of long and wide runways and how they can create an optical illusion that you're higher or lower than you actually are. I also learned the five most common reasons General Aviation airplanes crash – one of them was running out of fuel, which I still find comical to this day.
I went on every animal rescue flight – where we would transport animals from shelters to foster homes and rescues in other areas on the country – and every brunch trip to Martha's Vineyard that was offered with my dad in his Beech Sundowner.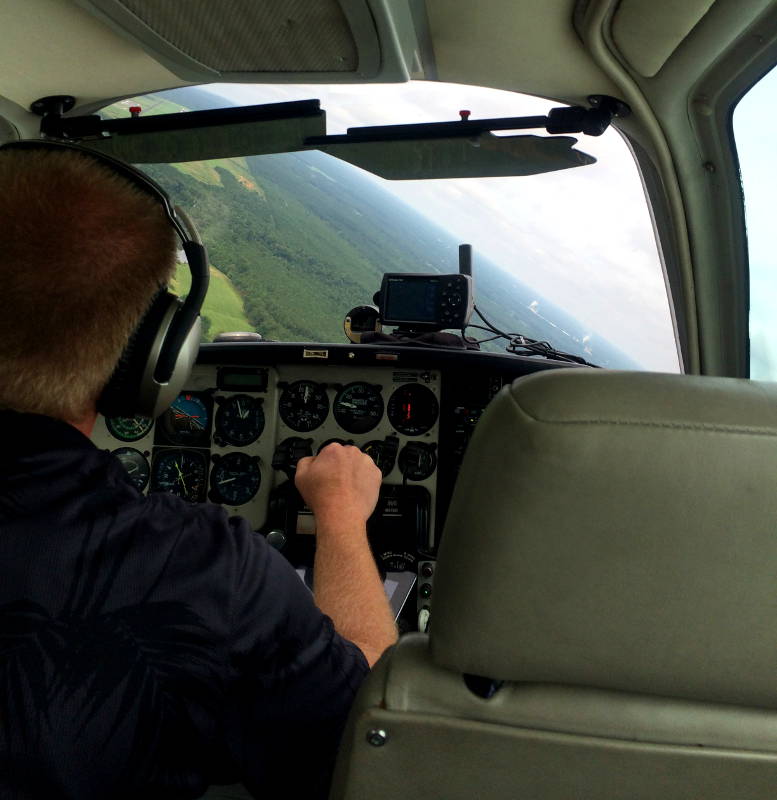 I learned how to read a sectional chart on a trip to New Hampshire before he had the GPS installed in the plane; I was responsible for finding the landmarks outside and matching them to the landmarks on the sectional.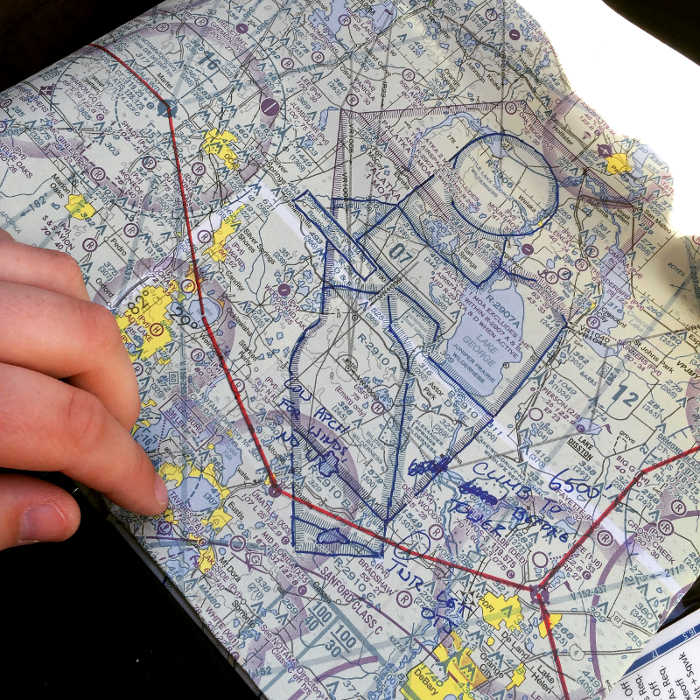 This was father-daughter bonding at it's finest.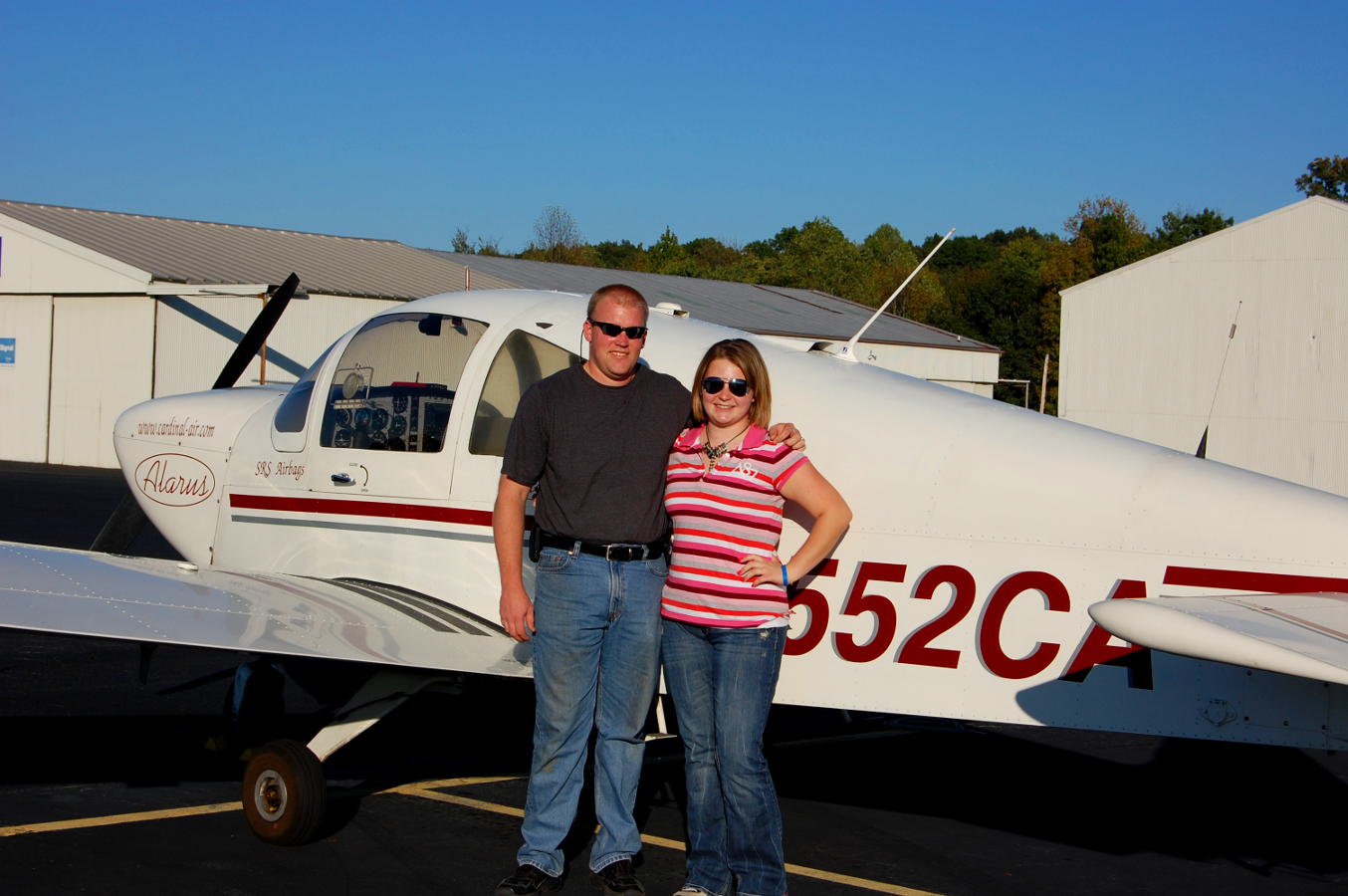 Discovery of a Dream:
"If you can dream it, you can do it."
-Walt Disney
In middle school when they asked us, "What do you want to be when you grow up," I really had never thought about it. My big sister followed in my mom's footsteps and got into sales and business, and I had always assumed I would do the same. When Mrs. T asked me what I wanted to do for a career I said, "business like my mom." She said that was nice, then asked me what my dad did.
That's when it hit me. I could fly planes like my dad – and make a career out of it.
I expressed my interest of doing this with my parents and they told me how hard it was going to be. But with some begging, they helped make my dream become a reality.
A Dream takes Flight:
"A dream doesn't become reality through magic; it takes sweat, determination and hard work."
-Colin Powell
What I thought was just a routine trip to see our A&P, Lou, before heading to dinner to celebrate my fifteenth birthday, turned out to be anything but routine. I stepped into the FBO and a man in a flight instructor hat and a pair of aviators was standing behind the counter.
"Hi, are you Chrissi?"
"Yeah?" I said, looking at this stranger that somehow knew my name. I looked back at my dad with curiosity and a grin.
"Hi I'm Bill Schwabenton and I'm your new flight instructor!" Bill said in what I would soon learn was his always-cheerful tone. I was smiling from ear to ear and, for the first and only time in my life, I was at a complete loss for words.
I followed Bill out of the FBO onto the tarmac at 5:36 pm – the exact minute I turned 15. I remember feeling strange climbing into the left side of the plane as I had always been on the right. Little did I know that soon I would feel right at home in the left seat.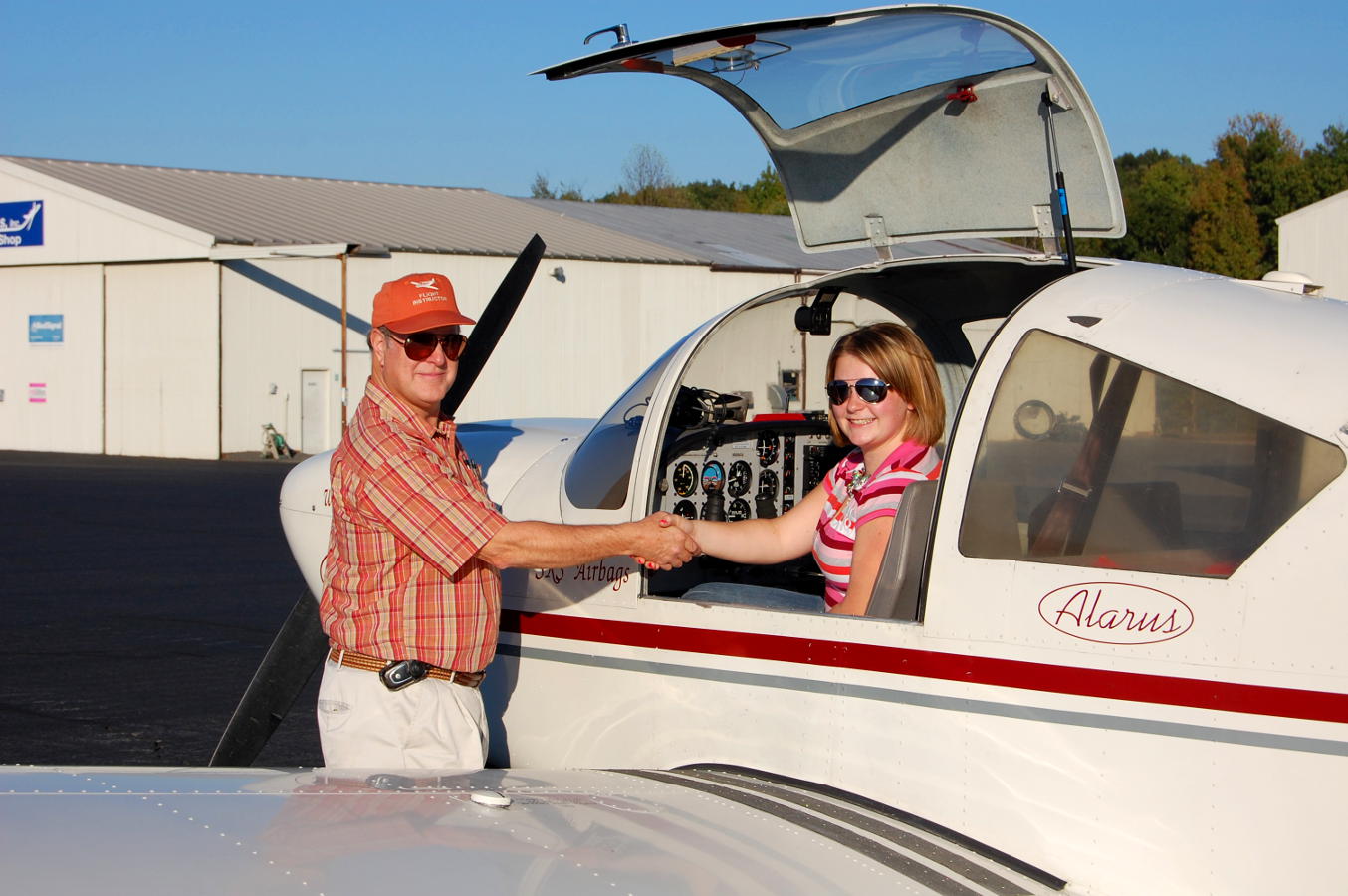 I completed one lesson a week for a year while juggling high school and extracurricular activities – including Driver's Education. I took my first flying lesson a month before I took my first driving lesson. My mom was always a bit concerned when I would need an adult to accompany me to the airport in a car per my learner's permit rules, yet I was soloing to another state in a plane. Like I said before, I like to do things a little differently than most people.
Joining the 'Club':
"Aviation is proof that given, the will, we have the capacity to achieve the impossible."
-Eddie Rickenbacker
One year after my first flying lesson, Bill told me I was ready to complete a pivotal part of flight training. I was finally sixteen – which meant I was legal to solo and officially become "part of the club."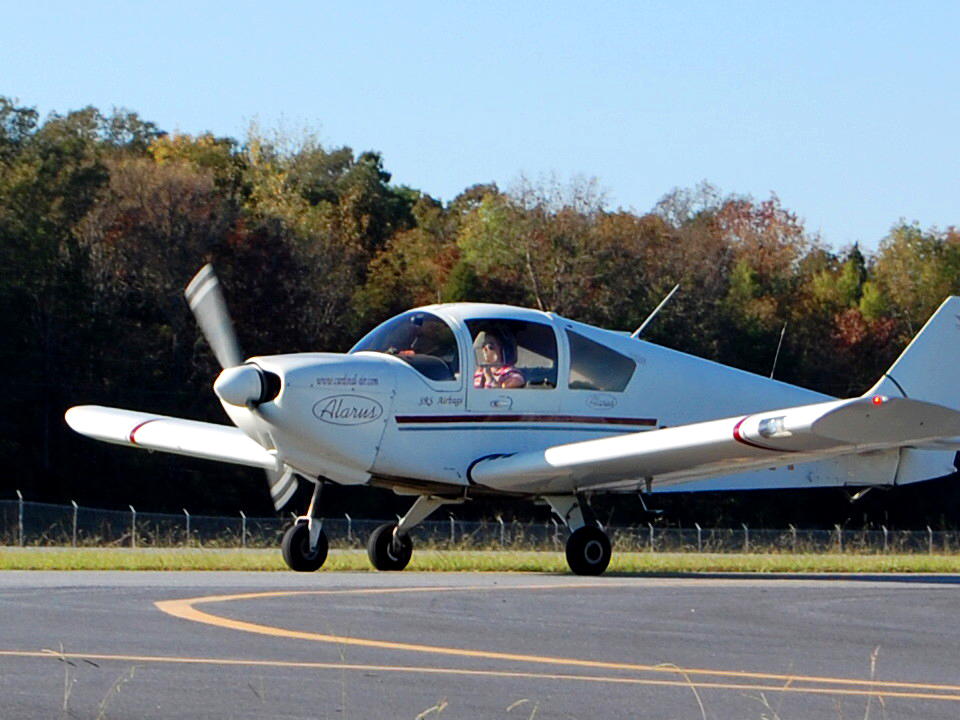 "Ailerons into the wind, heels on the floor, throttle slowly, smoothly in…Rotate," said the voice of Bill in my head. I thought, "Bill was right – the Alarus would take off in a lot less distance when he wasn't a 'paper weight' in the seat next to me."
I did my three takeoffs and three landings and taxied back to the ramp.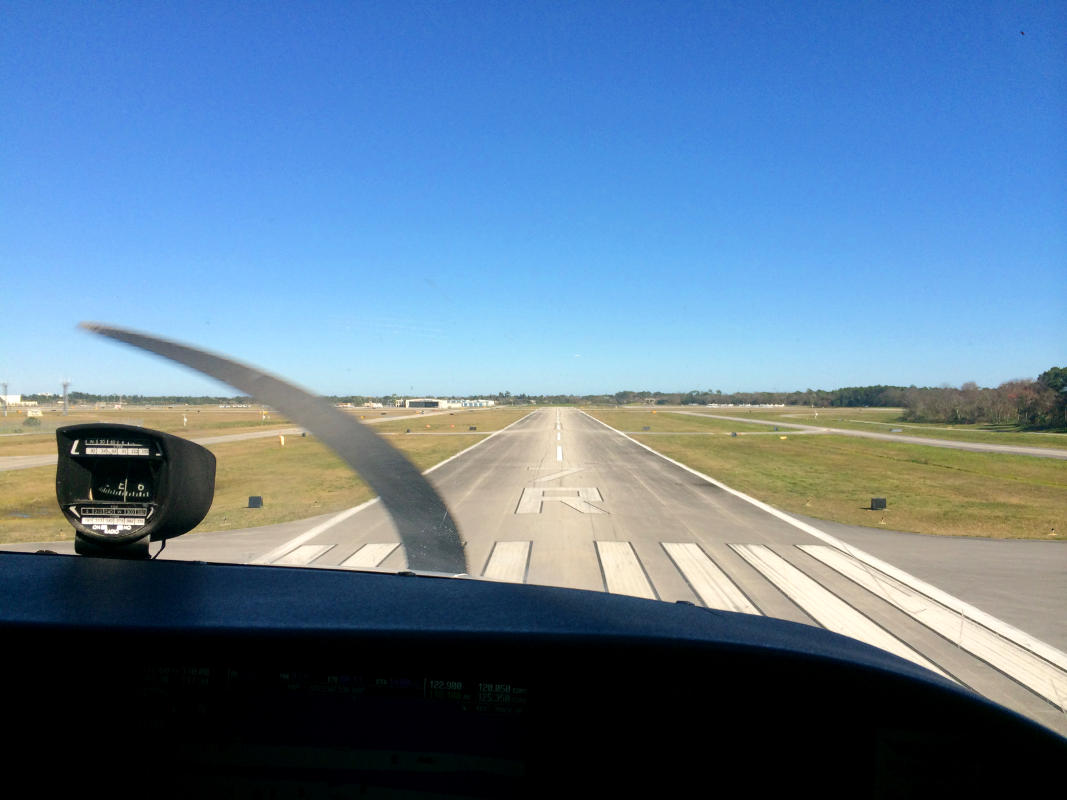 My family and some of my closest friends and supporters greeted me with cake and lots of photos of a day I will never forget.
My Journey from Solo to College Grad:
"Life is a series of experiences, each one of which makes us bigger, even though sometimes it is hard to realize this. For the world was built to develop character, and we must learn that the setbacks and grieves which we endure help us in our marching onward."
-Henry Ford
I asked Lou, the A&P at my airport, if I could help him in the mornings the summer before my senior year of high school. I wanted to learn a little bit more about airplanes in order to understand the aircraft I was flying. He seemed a bit skeptical at first, but soon learned that I was in it for the long haul. I learned so much about airplanes: from how a spark plug works to how to change the oil, tires and even mufflers on an airplane. The most important thing that I learned through this experience, though, was that aircraft maintenance was not exactly my cup of tea.
I completed my Private Pilot License shortly after my seventeenth birthday. I also applied and was accepted to my dream school – Embry Riddle Aeronautical University. As a surprise to many, I applied and was accepted into their Air Traffic Management program rather than their professional pilot track.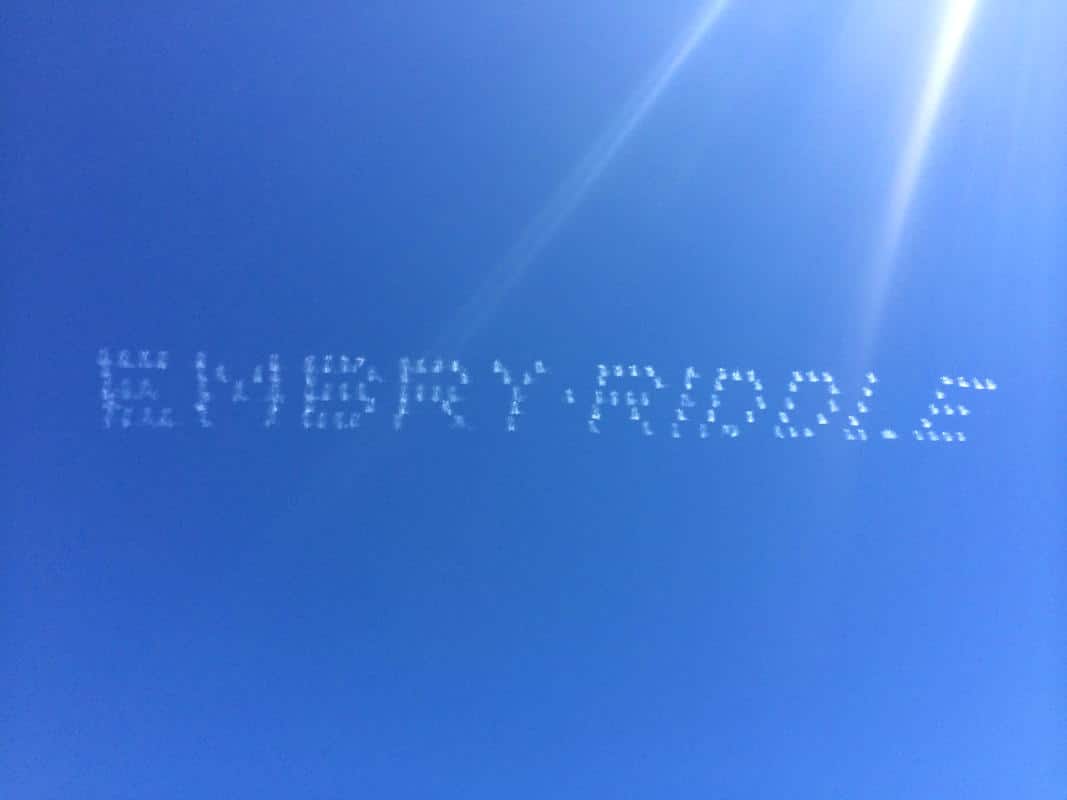 I knew aviation was my calling and I wanted to make a career out of it – but I couldn't see myself as a professional pilot. Bill had always told me my radio skills were excellent and when I really thought about it, talking on the radio was my favorite part of flying. So I gave air traffic control a shot and I'm glad I did – I absolutely love it.
While I was at college, I fell in love with my school. I was surrounded by people that were as passionate about aviation as I was. Everyone stopped and watched when an airplane took off and social media would flood with updates about the Thunderbirds when they would come to town.
Although I loved my school and what I was learning, there were some stumbling blocks along the way. I discovered I didn't really like meteorology but I enjoyed management courses. I took up a liking to Aviation Safety and Journalism while at Embry-Riddle after a few inspiring courses with two of my favorite professors. In three short years, I received my B.S. in Air Traffic Management with minors in Aviation Safety and Communication. I then created a blog, My Love of Aviation, to narrate my opinions on aviation topics.
If I'm being honest, though, there was a point along my journey where I thought Air Traffic wasn't for me; there was a particularly brutal evaluation in our terminal radar control class where I broke down and said to myself, "This isn't my calling. I need to find something else I can do…"
I didn't give up. I couldn't give up, I had too much invested in this path I chose and I needed to complete what I had started. I kept learning and found my strengths and weaknesses. I pushed through fears and self-doubt I was carrying around and finished the air traffic program just in time to move to Oklahoma City to train to become an FAA Air Traffic Control Specialist.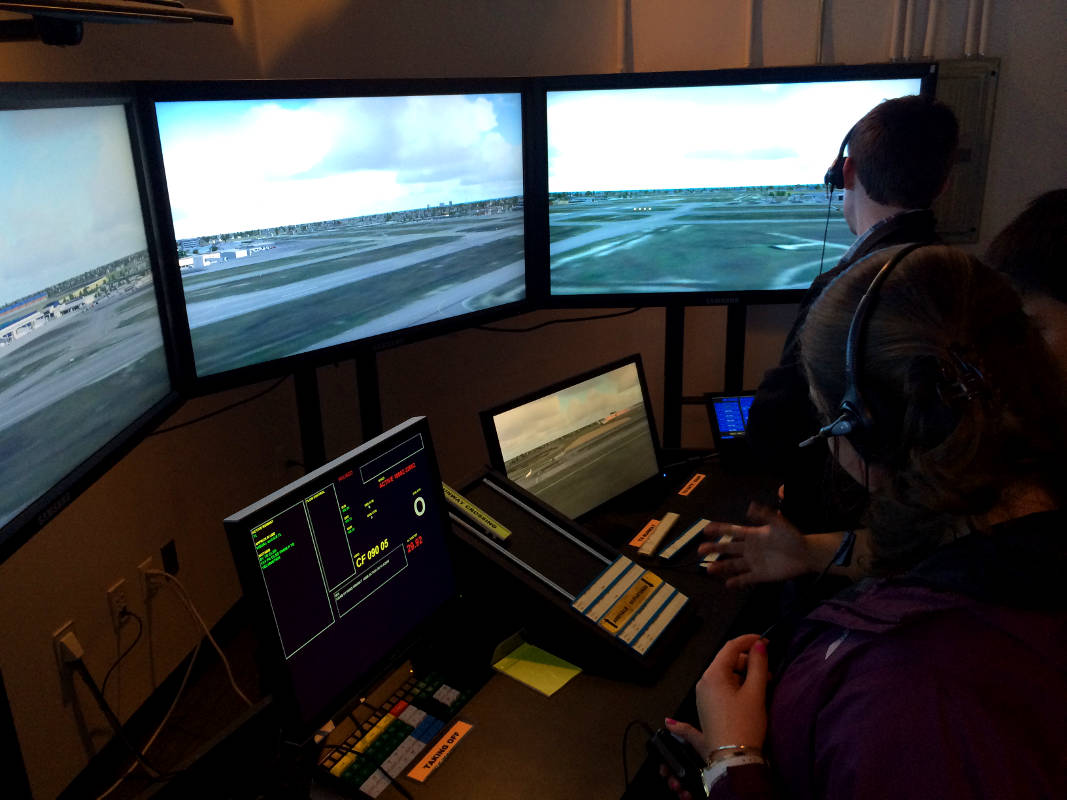 I start training on June 11, 2015.
"What you get by achieving your goals is not as important as what you become by achieving your goals."
-Henry David Thoreau
It was my dream. Now it's my reality. Please come with me while I complete this journey and share my experiences and find out what it's really like to be on the other side of the mic.
(All photos and video from the Thunderbirds show provided by the author.)
"Arlington traffic, Experimental 'niner' two Delta is two miles west, maneuvering for the Forty-Five for left traffic, runway 34, full stop."
That call, and many others like it streaming from the radios fill the many hangers on sunny spring weekends, and warm summer days. I sit with my airport family─Tom, Lenora, Dennis, John, and Larry─grilling burgers, drinking soda, relaxing, talking about, and watching all the airplanes that come and go at one of Washington's most popular general aviation airports. This, and flying, is how I spent most of my weekends, and ALL of my summers throughout these past two years, and I couldn't have felt more at home.
"I couldn't have felt more at home."
Aviation is my life, and the folks at Arlington are very eager, and quite enthusiastic that I'm learning to fly, and are very welcoming of me in their community. The reason for this is simple: I'm only 17. When I started flight training, I was 15, and was the one of the youngest people to start flight training at Arlington. Naturally, I was the subject of interest for many pilots at KAWO. They rarely, if ever, see pilots as young as me at KAWO, or at any airport in the region for that matter. Young people in aviation are a rare breed, and as the impending pilot shortage continues to approach, (the U.S. will need 20,000 by 2022) and the cost of learning to fly increases, young people in aviation will start to disappear entirely.
With flight training costing an average of $7,800, its no wonder why young people aren't flocking to airports and getting their pilots licences, but cost isn't the only reason why young people aren't interested in flying. When asking my peers, I've found that most of them think that airplanes are "cool" or "useful," but when asked if they would have any interest in pursuing a career in aviation, such as being a pilot, all said something along the lines of "No, it seems too hard." After several more questions, I came to the conclusion that people just aren't as passionate about aviation as they were 30 or so years ago. They see flying as a fast form of transportation from place to place, not something to do for fun, or as a job.
"Every single pilot I know is extremely passionate about flying."
Flying has lost most of its romance. And it seems like passion has a lot to do with being a pilot, air traffic controller, center controller, or any other skill job in aviation. Every single pilot I know is extremely passionate about flying, and has wanted to fly from a very young age. It's rare that you see someone become a pilot because it pays well, or because the perks are nice, its just too hard and too stressful of a job to have the same appeal of the regular "9AM-5PM" office job. The same goes for teaching, being a police or fireman, a doctor, veterinarian, surgeon, photographer, actor, singer, author, engineer, and the list goes on. People don't become doctors because it pays well, or become teachers because you get summers off, or actors because you get to be famous. They do it because they have an immense passion for it and truly love to do it. But still, many more people seem to want to aspire to be an actor, or teacher, or any other job that requires a good amount of passion to do, rather than fly airplanes. It's confusing, why do the other jobs draw crowds while the aviation industry suffers from the lack of pilots, air traffic controllers, and other career-type positions? What is aviation doing wrong?
https://www.youtube.com/watch?v=mw_hosA8aTM
Compared to other places, such as the classroom, the airport looks and feels almost like a prison. Tall barbed wire fences, often electric. Security cameras at every corner. Guards with tasers and firearms. Stiff legal penalties for not following the strict rules set by the FAA. For the average person, it's not a very welcoming place. This, along with many other reasons, is why people aren't getting interested in aviation, they don't see it as a very welcoming place. So the question has to be asked, what can we as an aviation community (#AvGeeks) do to get people interested and passionate about the wonderful world of aviation?
Sure, there are plenty of museums and tours that the public can take, like the always wonderful Museum of Flight at Boeing Field in Seattle, and the informative and spectacular Boeing tour at Paine Field in Everett, but the problem with that is it only attract a limited number of people due to its staticness. Museums just can't move from city to city, and thats where airshows come in. Airshows offer a chance for people to get much greater access at an airport, and they get the chance to see planes in action, taking off, landing, doing stunts and low level flybys, as well as talking to aviators about their machines after their performances. Both are great, and both serve great purpose to the cause of attracting new aviators, but they are both limited in their abilities to attract new people. Museums can't move city to city, and airshows only showcase part of what aviation encompasses and initials, most often the general aviation side of things.
"Give people access, answer people's questions and advertise the many perks…"
One idea is to introduce different career paths into high schools, particularly those that specialize in students knowing what fields they want to go in, such as any SLC at my high school, Marysville Getchell HS, Arts and Tech HS or any other specialty high school. A great example of this is Raisbeck Aviation High School in Seattle, located just a few hundred feet from Boeing Field. But, to solve the pilot shortage, the aviation community has to target the youth; get young kids on board early, and the aviation bug will spread like wildfire. Many pilots caught the aviation bug after hearing of great feats in aviation, such as Bob Hoover's aerobatics, the aw-ensuing airline captains, who made flying the old, heavy, loud jets at the start of the jet age look easy, the incredible non-stop circumnavigation of the globe by the Rutan Voyager, the great test pilots of the 50s and 60s pushing aircraft design and actual aircraft to the absolute limit on a regular basis, and stories of fighter jet pilots downing communist MiGs over the deadly skies of North Vietnam. Unfortunately, the only heroes heard about in the news today are commercial pilots landing aircraft after experiencing an emergency or major issue onboard, which is quite a common occurrence. Aligned with common belief, making hamburger meat out of a flock of geese and barely maintaining control of an aircraft full of hundreds of people is not the most attractive job.
EXTRA: Want to go inside aviation? Check out our InsideAviation podcast.
So, how do we make the job of flying attractive? Simple; give people access, answer people's questions, and advertise the many perks of being an airline pilot, air traffic controller, airport manager, or any of the other amazing careers the aviation industry has to offer. Giving people access allows them to get hands on experience and lets them see how things work, instead of investing a large amount of time and money into something they don't fully understand yet. Answering the questions will help people understand what we, the industry community, are all about, how things work and would provide them information about the diversity of careers in the aviation industry. Advertising is the biggest of these three; showing and telling people the many great things that come with being a pilot, air traffic controller, or airport manager. Some U.S. pilots on average can make up to $120,000 a year, working roughly 20 hour weeks. Reasonably high pay isn't the only attraction to being a pilot. Often, airlines will give their employees massive discounts on flights for them and their families, and pilots will be placed on layover, and depending on what route they're flying, they can often spend a day or so in popular vacation spots, such as Hawaii or Los Angeles, for free. Plus, the feeling of flight is like no other, and the pride you feel after ferrying hundreds of passengers thousands of miles in a matter of hours is something only a pilot can feel.
Along with these perks, a large amount of passion will be gained for aviation. In the past, I have had the chance to meet airline captains for many different carriers, and some didn't start to pursue the career of flying until college, and didn't catch the "bug" until deep into flight training. And most others don't fall in love, or gain that passion, until their first flight in an airplane.
The pilot shortage is an avoidable situation, but as time goes by, it will become more and more noticeable. Showing the attractiveness of the aviation industry is crucial, most people don't aspire to work under heavy regulation or working a stressful job with high risk, so why market it like that? Continuing to create events and places that celebrate aviation and its rich history is important for drawing public attention to it. Without showing people what we as a community are about, the interest level would be drastically low. Aviation is truly beautiful and inspiring and it is time for more people to "chase the skies" and to discover their dreams in aviation.
Ryan Krautkremer
Ryan Krautkremer is a 17 year old avgeek living 15 miles north of Paine Field. He spends most of his free time plane spotting a paine field, spending time at his local General Aviation airport talking to pilots, and flight training in various tailwheel aircrafts. He has had a major interest in aviation since day one, and hopes to one day fly for Delta or Alaska Airlines.
Latest posts by Ryan Krautkremer (see all)